A Visit to the Santo Daime
In November and December of 2003 there were many pilgrimages to the Daime Centers throughout Brazil. Here we present a report from one group that visited the modernity of urban Brasilia and the primeval forest of Amazonia.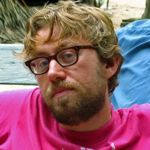 Recently, I visited centers of the Santo Daime with Jyoti, our guide from the Kayumari network, and ten other Westerners from Europe and the United States, on a three week tour. Our first stop was Brasilia, the capital of Brazil, a modernist city built from scratch in the early 1960s. We stayed at a Santo Daime community on the outskirts of the city, and attended two ceremonies while we were there.

Initially, I experienced a tremendous resistance to the Santo Daime work. In the shamanic ceremonies I had attended in the past, we took our medicine in the dark, and the focus was on experiencing individual visions. In the Santo Daime ceremonies, the lights were kept bright, and the energy was focused on creating a kind of group mind. Later, Jose Murilo and Fernando La Rocque, our hosts, explained that they called it "collective shamanism." It also took me a while to get used to the hymns, which seemed very foreign at first. I also felt a powerful negative reaction to the idea of a formal religious structure where people wore uniforms, sat in rows, and separated men and women.

I kept having to run out of the ceremony. I would leave to sit near the fire outside or to walk around and look at the stars. There were guardians assigned to keep watch over the ceremony and these guardians kept coming over to try to get me to go back inside. For me, at that point, it seemed to be a violation of my personal freedom to be part of the ceremony. I only returned with the greatest reluctance. I felt anger at their attempts to restrict my independence.

From Brasilia, our group flew six hours to the Amazon forest in western Brazil. We stayed at a Santo Daime community named Ceu do Cruzeiro do Sul. They had a beautiful ceremonial center, following a blue and white motif complete with decorative streamers. For our one night there, they organized a ceremony that involved dancing all night. The dance was a little two-step, everyone shuffling back and forth within a little three-foot space. I danced for a while, then my resistance rose up again. I ran out to sit by the fire, then went back to my hammock. In this community, nobody seemed to care whether or not I stayed in my place.

I returned alone to our guest quarters where I realized that I did want to participate in the ceremony. My resistance had suddenly disappeared. I went back and danced the rest of the night, and I began to understand why the Santo Daime ran the ceremonies in such a rigorous way: As I allowed myself to stay in "the current," as they call it, I felt like the medicine was not only introducing me to a divine force or presence, but it was also flushing out my psyche. It was a bit like a Buddhist mindfulness meditation where thoughts would arise, then channel themselves out.

The next morning, I went back and sat for a while inside the empty church. For the first time in my life, I felt that I understood the nature of devotion as a spiritual practice. It seemed as if devotion was a vibration or a kind of frequency that helped to hold together the structure of reality. I felt moved, and grateful that I was being introduced to this ceremonial practice.

We then took a boat, traveling with Padrinho Alfredo and Luis Fernando two and a half days down the Jurua River. We stopped briefly to visit the Daime center in Ipixuna and then traveled on to the village of Estorrões, which is also known as Céu do Jurua. For some reason, I was sort of terrified of this trip before leaving New York, and I couldn't even bring myself to look at a map to see our destination. All I knew was that we were going very deep into the Amazon.

The first night, after an amazing sunset, we climbed into hammocks strung throughout the boat. Mine was located on the top deck, under a small roof, and it was an incredible experience. At night I would wake up to find everything shrouded in fog, the trees just visible like wraiths on the banks. I felt like we were floating into the void, into the abyss, and it was utterly liberating.

Finally we reached our docking spot. Part of our initiation process was learning how to make the Santo Daime sacrament (ayahuasca), to work with the two plants that are brewed together, the vine and the leaf. As soon as we landed, we were brought to the community house and a huge pile of leaves which we were told we had to clean individually, leaf by leaf. Usually only women work on the leaves but for some reason, they decided they wanted the men to try it also.

At first, cleaning the leaves seemed an impossible and endless task. They gave us Daime to drink, however, and after a while the entire task suddenly changed into something intensely pleasurable. I felt each leaf was presenting itself like a little female deity that demanded attention. It seemed that the medicine was teaching us how to take care of it. Immersed in the task, I lost all track of time.

We took a break for lunch and then marched four hours deeper into the forest, to the community of Ceu do Jurua which is considered one of the most important spiritual centers of the Santo Daime. By Western standards, it is a very rudimentary place -- no phone, no electricity, no running water. The houses are strung off long jungle paths like beads on a string. A long bridge across a low-lying area leads into the center of the community where there is a central kitchen, a dining area, an open air sanctuary and a small church.

We were led to our one big room, where we put up our hammocks and mosquito nets. It took some effort to get used to the jungle heat and humidity.

We soon learned to follow the example of the villagers, who were good at keeping still and conserving their energy during the hottest parts of the day. They were very friendly to us, and seemed to support us for having made this long trip to visit them and participate in their rituals. Without judgment, we were welcomed into the life of the community.

During the next days, our work centered around the feitio house where the Daime is made. I learned how to work on the Vine — carving out the moldy and rotten parts, and then pounding it into filaments for cooking.

We had two ceremonies, presided over by Padrinho Alfredo, who is the leader of the church. I was very impressed with Alfredo. He had a very gentle manner, yet I had immediate trust in him, and in his mastery of the Daime. The ceremonies were extraordinarily beautiful and moving. I found that I really wanted to be connected to this tradition, which had established such a direct connection to the sacred. Two of my friends felt the same way. Before we left the jungle, we decided we would join the church. We told Luis Fernando of our decision.

The last ceremony we had there was a healing ritual. The energy became so huge, the visions so intense, I was worried that we would be unable to contain it, but Alfredo stayed firm at the rudder. At times I could see the "Mother of the Forest," like a vast astral being, twirling over our heads. I could feel what I can only describe inadequately as the Divine Presence, at the center of the room, above the altar, where the energy of the singers was focused. I could see astral beings who seemed to be coming up to me bearing flowers and fruit.

For a long time I had this sense that there was a dark figure by my left side, and I was scared it was something threatening. Finally, in my visionary state, I looked and realized it was Alfredo himself, reaching out a hand to me. In my vision, I shook his hand. He gave me a wonderful smile, and vanished.

The next day, after gathering for a final hug and group photo with Alfredo and his family, we left Jurua. We took a canoe through smaller tributaries to reach our boat on the river. For something like half an hour, an eagle flew along with us, gliding from tree to tree as we proceeded. It seemed like a fortuitous sign.

This journey was the most beautiful experience of my life.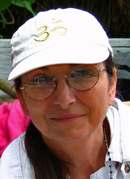 I have been going to Brazil for ten years but this was my first trip to Brasilia. I know it will not be my last. In the ceremonies held there, the Mother was very present with a sense of many blessings toward all. Thank you Fernando and Clarice and Eduardo and Luciana and Murilo for your gracious hospitality. You and your people hold such strong vision for unity and peace.

I want to thank the beautiful people of Ceu do Cruzeiro do Sul who, with great devotion, hold open the doorway to Jurua. And it was a special joy to be able to hug my new godchild, Carlos Irineu. This was only my second visit to the communities along the Jurua but it felt like I was returning home. Our work was sacred, focused around the feitio, the making of the Daime. It was a time of great healing and a deepening our connection with our true source.

On our last night in Ceu do Jurua, after another lovely sunset, we joined the whole community for a special healing work. It was one of the most beautiful nights of my life. Pad. Alfredo asked me to sit across from him at the table. As I looked at the photograph of Alfredo's father and mother, Padrinho Sebastiao and Madrinha Rita, surrounded by an altar of flowers from Nature's Garden, it was as if the heavens opened and a golden light poured down upon us all.

My heart is full of gratitude to Alfredo for his wisdom and guidance, and to Silvia, Rute, Luis, Luzenir and Elizabeth for so much support and good friendship. These gifts will continue to sustain me in these times of great challenge and change. You sent me home with a renewed hope in my heart and courage in my actions to continue to walk this path of love and union.

Returning from Jurua, Re-entering New York
by Angelina Nasso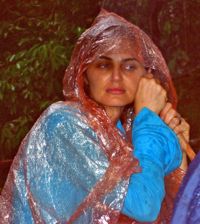 Back in New York. Integration time. Every cell in my body holds the richness of the jungle. Every cell and bone in my body feels like it has been worked on - massaged - purified. Strange to be back in this world so full of distractions - so much takes us away from who we really are. I keep thinking about Jurua - a place that connects me to the heavens. I return with my soul and my heart so full. Blessed by the Daime and the Queen of the Forest, fear dispelled. The vibration of love takes care of all things - my body can barely stand the beauty that comes. A deep breath - remembering our true nature - the divine present in us.

I feel enormous gratitude toward Padrinho Alfredo and Luis Fernando for graciously providing this opportunity to us. Words are insufficient to describe just how important it is that we can come into communion with the divine in this way. The Santo Daime has expanded me with love and has taught me how I can gracefully and humbly carry love in my heart as I walk through this world that struggles with so much darkness.

I read this little passage from a book I have by St Theresa of Avila while on our return. It aptly applies;
"I have myself seen and I know by experience that the soul in rapture is mistress of everything, and gains such freedom in one hour or even less that it cannot recognize itself. It perfectly well sees that this is not it's own achievement, and does not know how it has come to possess such a blessing. Now comes the distress of having to return to life. Now the soul has grown wings that can bear it, and has shed it's weak feathers. Now the standard is lifted high for Christ, and it really seems as if the captain of the fort is climbing, or being lifted, to the highest tower, there to raise it aloft in Gods name."